Make Code 128 & GS1-128 Barcodes
C128Tools is a quick, easy way to create Code 128 barcodes. Build Code 128 (a, b and c) and GS1-128 barcodes into your favorite spreadsheet, database, design or labeling project.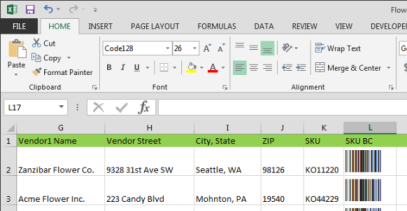 C128Tools comes with five different Code 128 fonts in TrueType and other formats, a barcode wizard to create barcodes one at a time, and add-ins to create barcodes in Excel spreadsheets, SAP Crystal Reports and more.
Our software is not compatible with Microsoft Office programs on the Mac.
Operating System Requirements
Windows: Win 2000 and newer
Mac: OSX v10.2 and newer
Linux/UNIX: please contact us
---
Your satisfaction matters
All of our software comes with a full 30 day money-back guarantee and free technical support for life.